FEBRUARY 2017 UPDATE 
Glanmire had a great  outing at the recent Cork heats of the Cork Community games swimming event which was held in Leisureworld in Bishopstown on Saturday 4th Feb.
11 regions competed in the Cork final with Glanmire having 16 swimmers take part on the day.
9 gold and 2 silver individual medals were brought back to Glanmire that evening and the girls and boys relay teams both  won gold  making  it the most successful community games swimming event for Glanmire in recent years.
All gold medal winners will now go on to represent Cork in the national community games final on 6th May in Abbotstown in Dublin
Gold medal winners were:, Anna Kelleher, Isabel Kidney, Jamie Murphy, Shauna Murphy, Evie O'Connell, Sean O'Connell, Orna Higgins, Rory Higgins and Siofra Higgins.
Silver medallists  were: Laura O'Brien and Peter O'Brien
The girls relay team taking home gold were: Evie O'Connell, Isabel Kidney, Anna Kelleher, Siofra Higgins and Hazel Murray  and the boys gold medal relay team comprised of: Ryan O'Donovan, Sean O'Connell, Jamie Murphy and Rory Higgins
Well done Glanmire on a great outing and best of luck at the national finals!!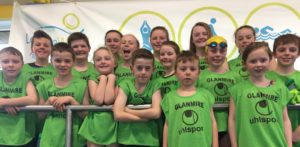 Photo shows..
Front row from left to right  Sean O'Brien, Peter O'Brien, Orna Higgins, Ryan O'Donovan, Evie O'Connell, Tom O'Connell, Grainne Sneddon, Shauna Murphy, Jamie Murphy
Back row from left to right – Sean O'Connell, Rory Higgins, Laura O'Brien, Isabel Kidney, Anna Kelleher, Siofra Higgins, Joanna O'Donovan