Community REcycle/REpair/REuse Page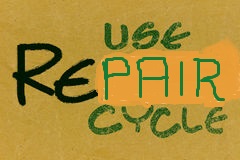 Planning a New Year Clean-Up or an early Spring Clean in the house, garage or shed?
Don't forget instead of throwing things away, why not send us an email with the details + photo and we'll post it on the webpage and maybe there is someone in the Glanmire area is looking for that very item – it can be almost anything; Unwanted presents, Unused/leftover materials, paint, tiles, grout, attic insulation, floor boards, attic boards, old lawnmower, fencing, garden tools, old bicycles, games, whatever, as long as it still works (or semi-works but please specify if the item is in need of repair!)
So EMAIL us  the details with a photograph and how to contact you – When we post new item to the page, it will also be shared on Facebook.
We are also always looking for goods to sell on our fundraising stall at the carboot sale, so if you have something that you don't want but might be worth a few €uro and you would like to donate it to us, please get in touch by ringing the office 021 482 1333 or send us an email